NCSD Trustees approve new $333M budget weighed down by declining enrollment but buoyed by federal funds
CASPER, Wyo. — The Natrona County School District Board of Trustees voted unanimously on Wednesday, July 7 to approve a new budget that includes $333,392,825 in total appropriations for fiscal year 2021-2022.
While citizens were given a chance to offer comment ahead of the vote, no members of the public offered comment during the budget hearing.
Trustee Dave Applegate said that planning for the new budget has been ongoing for the past 8-9 months. He said that NCSD controls one of the largest budgets among school districts in the state, adding that he thinks the district is "very fortunate to have very strong funding in the State of Wyoming."
While NCSD is anticipating $156,654,641 in revenue from State of Wyoming sources under the new budget, they are expecting a $3,042,881 decrease in guaranteed funding from the state compared with the previous year.
That decrease is largely due to a decline in enrollment which is part of the formula the state uses to provide funding to school district. NCSD says that enrollment declined by about 514 students in 2020-2021.
In response to the decreased enrollment, NCSD is looking to eliminate funding for 30 certified full-time employees and 15 classified full-time employee positions under the new budget, according to the district's budget summary.
While state funding for the district is down, NCSD's new budget is buoyed by an influx of pandemic-related federal funds. The budget anticipates $21 million in additional federal funding beyond what the district received during fiscal year 2020-2021. That includes $17,061,001 in federal Coronavirus Response and Relief Supplemental Appropriations Act funding. NCSD will likely receive even more federal funding that isn't built into their new budget.
The Wyoming Department of Education received $303,709,391 under the American Rescue Plan Act Elementary and Secondary School Emergency Relief (ESSER) funds. While school districts will receive a portion of that funding, NCSD notes in their budget summary that the WDE has yet to allocate these dollars to school districts.
The total appropriations under the new budget is an overall increase of $15,722,223 from what the NCSD trustees appropriated when they adopted the fiscal year 2020-2021 budget last summer.
NCSD's new budget includes appropriations for a variety of funds:
General Fund: $226,955,762
Special Revenue Fund: $59,117,929
Capital Projects Fund: $37,526,286
Food Service Fund: $6,574,170
Activity Fund: $3,218,678

Total Appropriations: $333,392,825
The General Fund is the largest fund for the district. NCSD says their operating budget under the General Fund under the new budget will be about $199.1 million.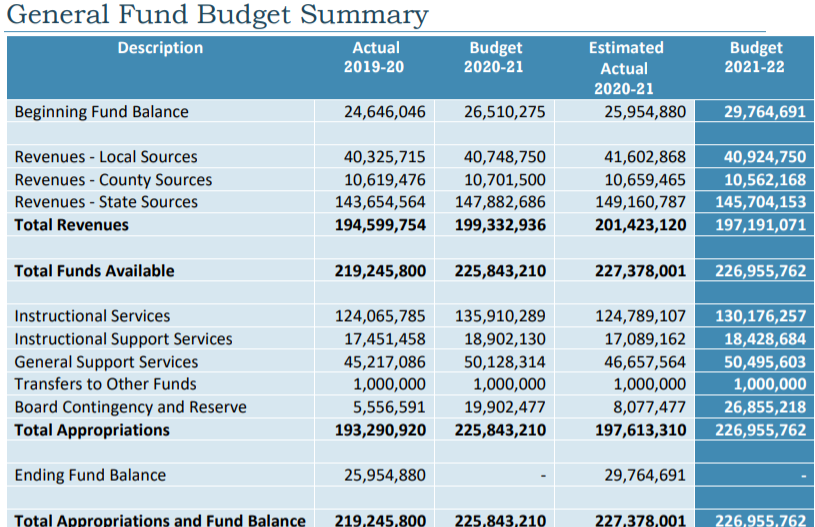 "Of this operating budget, 74% is devoted to direct classroom instruction and instructional support," the district says. "NCSD has had a goal to maintain a budget reserve of at least 5% of operating expenses. For FY22
the budget reserve is $12,325,000 which is 6.2% of the operating budget."
A majority of General Fund dollars come from State of Wyoming revenue sources. The district also receives funding from county property taxes as well as other county and local revenue streams.
"The majority of local revenue received by the District is based on the assessed property values and levied taxes in the county," NCSD says. "The school district is authorized by state statute to levy a 25 mill tax on the property within the boundaries of the school district and its share of a 6 mill tax on the properties … within the boundaries of the county."
Other types of local revenue the district receives include:
• Railroad Car Company Taxes: The District's share of railroad car company taxes, distributed in the same manner as property taxes.

• Motor Vehicle Taxes: Revenue generated from motor vehicle licensing and registration, distributed in the same manner as property taxes.

• Delinquent Tax Penalty and Interest: The District's share of interest and penalties on delinquent taxes, distributed in the same manner as property taxes.

• Taylor Grazing Act Funds: The District's share of Taylor Grazing Act funds.

• Fines and Forfeitures: The District's share of fines and forfeitures.

NCSD also receives the following types of local revenue not counted as local resources for purposes of the funding model entitlement calculation:

• Interest Income

• Indirect Costs – Cost of managing federal funds that may be reimbursed to General Fund as an expense to a grant.

• Facility Rents – Community building usage fees and Employee Housing Rents

• Private Donations

• Student Fees or Summer School Tuition

• Sale of Assets acquired prior to 1997

NCSD
Further details on the budget are available from NCSD.
Related Stories from Oil City News: