Pillow shower held for veterans
Three service organizations recently joined to provide pillows for St. Francis House.
The United States Daughters of 1812, Colonial Dames 17th Century, and Arkansas Society Daughters of Colonial Wars held a virtual Pillow Shower and arranged for members to drop off at locations in Hot Springs Village, Little Rock and Pine Bluff. Sissy's Log Cabin consented to be a drop-off location in Little Rock.
The Pillow Shower was in response to a plea from the Veterans Re-Entry program at St. Francis House in Little Rock. When they arrive, each veteran is given a new pillow to keep and SFH advised they only had a few and needed new pillows as soon as possible. The pillows needed to be new in original wrapping for health reasons.
SFH provides transitional housing for homeless veterans having difficulties reentering society because of post-traumatic stress syndrome or substance abuse or other problems, a news release said. The program provides a therapeutic setting including the services of counseling.
Able veterans are required to seek full-time employment. Those unable to work are assisted with securing other types of income, such as VA pension or disability. All residents are required to save 75% of their income to secure permanent housing. Once their savings are sufficient, they are assisted in finding housing, it said.
More information about the organizations is available by emailing Beatty-Krout at [email protected]
Jerrie Jones, Kay Tatum and Sheila Beatty-Krout delivered the same day to SFH. Victor Carbajal, SFH veterans assistant director, takes delivery of the pillows and other donated items for the veterans. Photo is courtesy of Beatty-Krout. – Submitted photo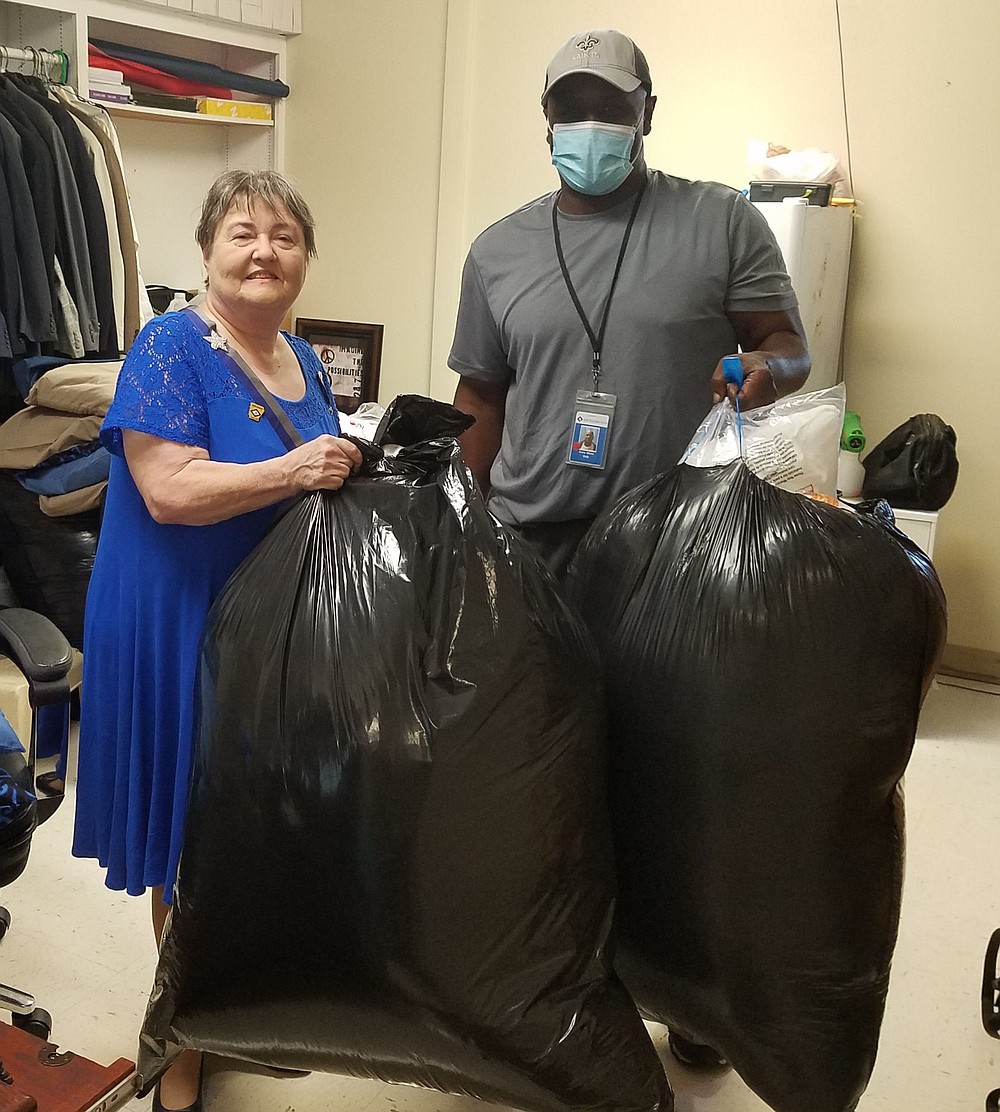 The veterans' donation room at SFH. The pillows were delivered in large bags. Assisting Jerrie Jones unloading is SFH volunteer Alvin White of Pulaski Tech. Photo is courtesy of Beatty-Krout. – Submitted photo